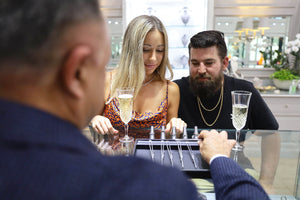 We don't just sell jewelry.
We educate our clients.
On paper a diamond might seem great, but in person it may be even more brilliant – or less. To mitigate the risk of unfulfilled expectations we encourage our customers to see pieces up close and personal, through touch and feel.
It's in this manner that you can truly feel the energy of a stone, and make a meaningful connection. What's more, with side-by-side comparisons we'll train your eyes to be more discerning so that your investment carries your full confidence.
Important Considerations
At our shop you'll be able to see the impact of cut, clarity, color and carat on a diamond. But the knowledge we impart on our customers extends far beyond just the 4 C's. There's an underlying influence that carries even more weight, and that's the emotional quotient behind the stones and metals.
Seeing our pieces up close and personal makes falling in love that much more meaningful. For just as we choose someone for their perfect imperfections, so too we choose diamonds for their UNIQUE brilliance. After all, no two diamonds are the same.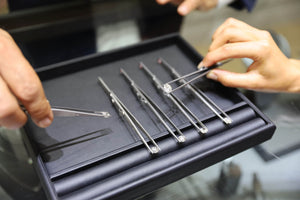 Learn the basics
The engagement rings process can seem daunting, but we are here to help. We kindly invite you to make an appointment with our master jeweler for a complete walk-through of everything you need to know about engagement rings – and yes, you can ask as many questions as you'd like.
Ask Questions
What makes a ring sparkle?
How are diamonds certified?
How can I maximize my budget?
What are the risks of buying online?
How can I spot diamond blemishes?
How can I design a unique ring?
Satisfaction Guarantee
There is no commitment for you to make a purchase with Blue Diamond. Your knowledge and confidence in navigating the jewelry industry is our priority. If you do choose to make a purchase with Blue Diamond, we would be honored to be part of your love story.
We understand your concerns - allow us to help: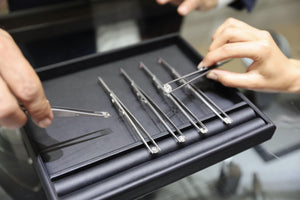 Story
How to design an engagement ring
Whether you're just starting the engagement ring purchase process or have struggled to find a piece that you really connect with, keep reading to see how we work with our clients to create a truly...
Read more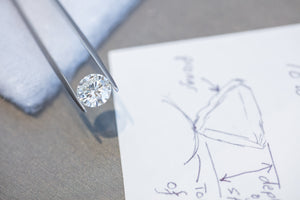 Story
How to look at diamonds differently
When it comes to purchasing a diamond piece of jewelry – especially something as significant as an engagement ring and/or wedding band — there are 4 factors (outside of the GIA's 4Cs) you should al...
Read more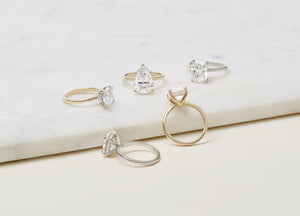 To get started
Book an appointment
Our first interaction is just about getting to know each other. We don't believe in making hasty decisions or pressuring our clients. Ease into the process at your own speed and see what we have to offer.
Contact us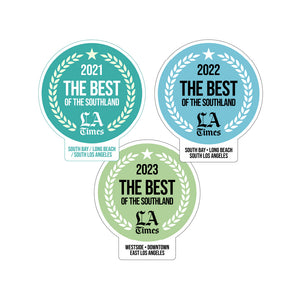 Local Favorites
Honored & Grateful
We sincerely appreciate our community for the warm reviews we've received online. Thank you for vote of confidence! We will always be committed to serving the needs of our customers with kindness and respect. Our ambition is to exceed your expectations.